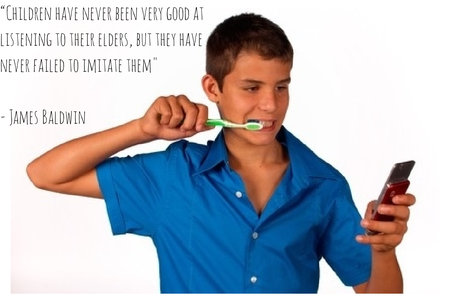 I wish I could tell you that I always feel like a successful Dad.
It's one thing when I fall short in my career, or in my fantasy football league.
But it hits me with startling impact when I feel like I have failed my kid.
Now, I know some people don't like the term 'fail' or even the concept of 'failure' anymore.
For some, nothing is ever a failure; everything is a 'challenge,' or an 'opportunity to improve.'
I say, to each his own. So replace 'fail' with whatever alternative word feels right for you. I experienced these realizations as grim feelings of failure, that's the way it felt to me.
Certainly, every failure is an opportunity to improve, but the feeling I'm talking about isn't that.
The feeling I'm talking about is the big, black cloud; not the silver lining.
But don't fret; I included the silver lining in the conclusion at the bottom.
After all, a post with a title like this needs a happy ending.
1.  Sometimes I Lose It
I wish this wasn't true, but it is.
There's this muscle we all have called Patience.
I think it's situated somewhere in my stomach.
Sometimes, especially toward the end of the day, it just quits on me mid-sit-up.
Sometimes when it gives out on me I just bark orders at my kids from across the room. Like last night when they didn't go climb in their beds after story time after Sarah and I each politely, calmly asked them to.
Other times, against my better virtues and all logic, I can start feeling that I am owed something.
I can start feeling that, because I took my kids out to dinner to their favorite restaurant and then I drew everything they asked me to draw with crayons on the kids menu and then I took them to get frozen yogurt and then I made up stories for them all the way home and then I let them pilot me like a giant robot to their beds, that these 3 year-olds owe me some gratitude instead of erupting into tantrums when I ask them to go to sleep.
And how did I use this teachable moment to communicate my frustration? How did I model emotional intelligence and my mature self-mastery?
I gruffly threatened to turn off their night lights if they didn't stop talking and go to sleep.
Worst of all, they've decided to adopt this method of communication.
My 3 year-old barked orders at me in the same way that I barked orders at him. In the same tone of voice. Using precisely the same words. In front of all the watching guests in our living room.
I can only describe the overwhelming feeling of failure I felt in that moment as a spicy mix of terrible and embarrassing. Terribarrassment, it should be called.
My stomach sank into Antarctic depths as I realized that the look on his face as he parroted this behavior back to me must be an exact replica of how my face looked.
The furrowed brows. The stern look. The frustrated gestures.
I've started apologizing to my kids after I say something I regret. It eases my conscience, but I hope it accomplishes more than just that.
What I do is, the moment I realize my mistake I seek my kids out and I say, "Hey, I'm sorry for talking to you that way. I felt really frustrated/angry/hurt because XYZ, but I shouldn't have spoken to you like that. It was disrespectful and I know it. So I'm sorry."
At first, I felt really weird apologizing to my 3 year-olds. Especially since there were times when it was clear they had already blissfully moved on to something else. Am I undermining my authority with them by apologizing, I wondered?
But I've decided to take the risk. Because if I'm going to pass on bad habits to them (which I'm clearly already guilty of doing), I need to pass on the resolutions to the fallout from those bad habits, too.
I hope that by apologizing I'm passing on the idea that I am the one responsible for my own shortcomings and mistakes and that they are not responsible for my bad behavior.
I hope that they will learn to take responsibility for their own mistakes, too.
I also hope that they will learn that they should never allow themselves to be too weak to apologize when they know they are wrong and I hope they will learn how to apologize sincerely and without reservation.
It will also be good practice for marriage, I think.
Really, all I can offer up in my defense is this indisputable fact:
The medical professionals at a respectable hospital gave me these children to take home, despite my shortcomings.
Sometimes I really get it right as a Dad and sometimes it's Terribarrassment.
2. I Am Addicted To My Phone
I don't feel as guilty about disclosing this paternal failing, since the odds are that you are just as addicted to your phone as I am.
Sarah reminds me regularly to put my phone down and be present. I'm grateful for her reminders though I probably don't seem grateful in the moment.
I hesitate to use the word 'addiction,' simply because I have no desire to misrepresent the severity of other, life-destroying addictions like substance abuse.
Maybe it's the word 'addiction' and the stereotypes that come with it that make it so easy for me to continue denying that I have an addiction.
But if you replace the word 'addiction' with 'compulsion,' well, now I've run out of semantic defenses, because there is no question that I feel compelled to check my phone regularly.
How regularly? Certainly every hour I am awake. Sometimes several times per hour.
When I'm checking it because of work, my rationalizations come easy.
When I'm checking it because of sports scores, my rationalizations are flimsy but adequate.
When I'm checking it because Reddit might have something new and interesting (Reddit will always have something new and interesting), I can only drown my conscience with funny cat photos.
Spurred on by Sarah's reminders, I made the conscious choice to avoid looking at my phone all day yesterday, as a way to prove my mastery over this compulsion to myself.
I only checked it 3 times.
The irony is that as successful as Sarah and I have been in limiting our kid's screen time for the last 3 years, I seem to be spending more time in front of screens than ever before.
That is a recipe for modeling exactly the sort of behavior that I don't want my kids to learn.
So, I'm working on letting that anxious feeling linger when I consciously stop my hand from picking up my phone.
I don't fully accept that I'm a grown man who is compelled to check a glowing screen every hour.
But I'm not going to let that uncertainty distract from me from the important point, which is that I spend entirely too much time on my phone.
In Conclusion
The good news and the happy ending are that despite my paternal failings, I am still very much in this game every single day. Because of the time I spend with my boys each day, I get new opportunities to steer this ship of Fatherhood away from the rocks of my own failings.
If I'm completely honest with myself, I don't want my kids to never see me make mistakes, at least not within reason.
I want them to see me goof up, make the wrong decision, say the wrong thing the wrong way, then see me recover, cope, apologize, make amends, pick myself up and keep trying.
So that they can come to know that it's important for them to do the same.
http://www.parentswho.com/wp-content/uploads/2014/08/Imitation2.png
301
450
Christopher Wehkamp
http://www.parentswho.com/wp-content/uploads/2014/06/Parents-Who-Teardrops1.jpg
Christopher Wehkamp
2014-08-28 10:10:03
2014-08-28 12:30:35
2 Ways I Feel Like A Failure As A Dad