As we wrap up Mr. B and Mr. C's 4th birthday and I find myself surrounded by some new books, I thought it a good opportunity to share some of our favorite children's books.
In my last post I mentioned that we make a very intentional effort to steer clear of shows, books, and products that contain highly commercialized characters.
How to choose high quality books for your family is topic for a different day, but for now I'll say we have a few reasons for avoiding licensed characters:
-Children spend more time on creativity and imaginative play when books or toys are not highly based on media characters
-Many toys and books with characters are designed in partnership with companies interested in selling other products
-Chris and I get a kick out of reading stories and books by original, inventive, inspiring authors and illustrators and that excitement is contagious.
We think that your family will get as much of a kick out of these books as we do.
1) First up, The Book With No Pictures by B. J. Novak @bjnovak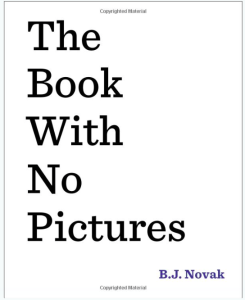 This is a hilarious book sure to prompt many giggles (and many re-readings).  This book was originally given to us by the boys Aunt April & Uncle Burke.
The story is, as promised, completely free of any pictures, just page after page of colorful words.  The words are written exactly as a kid would want an adult to talk.  "My only friend in the whole wide world is a hippo named Boo Boo Butt."
Novak: "The books I loved as a child all had one thing in common: They were very fundamentally on the side of the kid." This quote is courtesy of interview found here
The book is written with page breaks, font sizes and word placement all aimed at helping the parent or reader with comedic timing.
Your kids will love this one.
2) Mix It Up by Herve Tullet @HTullet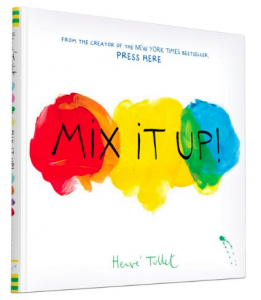 My sister April and her husband Burke sent this one over as well.  We are huge fans of Herve Tullet and his other picture books Press Here as well as Help! We Need a Title.
While Press Here is geared more towards children 2-4, Mix it Up seems to appeal to a bit older group ready to learn about color creation and mixing colors.
The boys love to shake, rub, press and smash the book per the author's instructions and see the resulting color combinations.
3) Zoom by Istvan Banyai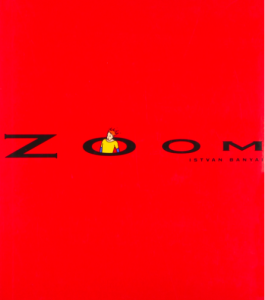 I found this gem back in my elementary school teaching days.  The opposite of The Book With No Pictures, Zoom is only pictures.
The book keeps you guessing as it "zooms" out or "zooms" in (if you choose to read it backwards).
I love watching the boys try to remember what is coming on the next page.  This book has great illustrations and is great for teaching sequencing.
The book is also a subtle nod to the limitations we have based on our own perspectives and personal vision.
4) Fortunately by Remy Charlip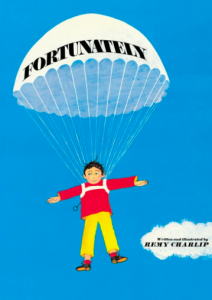 Fortunately is another book I happened upon while teaching 2nd grade one day.
This book follows the main character Ned, a quirky fellow, through a rather hapless adventure.  The book is perfect for teaching predicting, problem solving, and resourcefulness.
The story is funny and always makes us laugh no matter how many times we read it.
5) Spoon by Amy Krouse Rosenthal @missamykr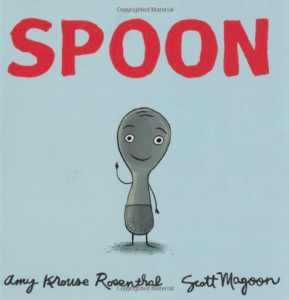 Spoon is another one that we enjoy reading again and again because of great illustrations and clever humor.
The story's main character thinks everyone else lives more useful and exciting lives.
It's a simple story that can help children to recognize self-worth and how to deal with feelings of envy or jealousy.
http://www.parentswho.com/wp-content/uploads/2014/10/What-Were-Reading-to-our-Kids.png
1200
800
sarah wehkamp
http://www.parentswho.com/wp-content/uploads/2014/06/Parents-Who-Teardrops1.jpg
sarah wehkamp
2014-10-30 08:00:46
2014-10-29 20:40:37
5 Books We Read to Our Children