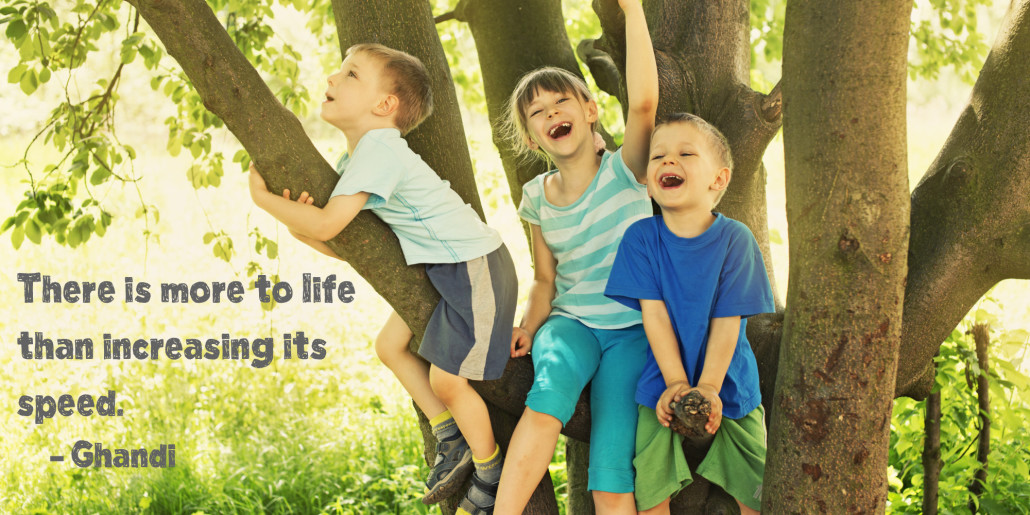 There was such a positive response to our "In Support of Stillness" post, it seems many of you are dealing with the same struggle to slow-down family life and find space in the margins to just be still.
We had some questions asking for specific ideas for ways to preserve simplicity in your family activities.
Here's a list to get you started.
Not a "take them to your local library" list.
Though you can do that too.  We do.
But more of "I've lived this and it works I promise" type of list.
1.  Local public school bus barn
I took my boys to the bus barn the week before school started the summer of 2012.  I simply went inside and asked them if the boys could take a tour of the buses.  For insurance reasons they said no, but they did have foldable cardboard buses that they distribute to people that wander in.
We stood outside the bus barn and counted the buses.  We watched them start and stop and a few honked at us.
The boys were in heaven.
Maybe where you live you can actually score a tour.  Let me know if you do.
2.  Tractor store
Let the kids climb on the tractors and pretend to drive them.  Take home some books (aka brochures) home that the kids can look through and point to the tractors they know or rode on.
3.  Construction site
I can't tell you how many times I see a construction site and immediately pull over to watch.  Better than TV, better than snacks.  Depending on the site you may be able to get out and watch, or maybe just roll down the windows.  Always be sure to wave, the workers get a kick out of it as do the kids.
4.  Target (or similar store if not Stateside)
When you break it down, Target is really just a huge space with a lot of fun items.  Go play with the toys but don't buy any.  Explain that "Nothing here is to buy, it's just to play with.  Like at (church, school, Sally's house, fill in the blank)."
DO NOT bring in a shopping list.  This has to be a looking and not errand running activity only.
5.  Library
Usually a play area inside.  Books to check out.  Storytimes.  Toddler times.
6.  Pee-wee football or baseball game
Why spend a lot of money to go to a professional or college game when:
a. The kiddos won't make it through half of it
b. They will most likely be super far away from the action and
c. They will have to sit still in a seat.
Go to the local pee wee games and get in on the action.
Let the kids retrieve the soccer ball when it goes out of bounds.  Ask if you can play with the practice balls.  Run the bases when a game ends.  Shake the cheerleaders hands.  Climb the bleachers.
7.  Doggie daycare 
We go to PetSmart or any other dog care facility that has big glass windows.  The boys love watching the dogs play.  They name them and talk to them and laugh at them.
8.  Churches
Some have libraries with no late fees, most have playgrounds.  You don't have to be a member at any of the facilities we visit and the people are usually super nice.
9.  Petstore
Play with the animals for free.  This is especially good if you really are thinking about buying a pet.  Or if you have decided you are definitely NOT buying a pet!
10. Baseball field
Kids love to run the bases.
11. Playground
Self-explanatory.
12. Airport
In Dallas there's a special area right outside the airport where you can watch the planes take off and land while listening to air traffic control.  The boys love guessing where the planes might be coming from or where they're going.
13. Car wash
Again, you can go through, but you can also just watch the other cars go through as well.  Some have big glass panels that allow for viewing.
Last time we went Mr. B grabbed a broom and started sweeping the floors.
14. Grocery store
These places can really be fun and educational if you have time to let your kids observe and explore.
15. Boot camp
I use to attend a trampoline boot camp.  I worked out while the boys got the whole trampoline park to themselves to play with other kids and another adult that watched them.  They didn't charge anything to watch them.  The boys got TONS of wiggles out, and we all got some good exercise.
16. Garden center
When we go I try to point out some new types of plants and flowers, but mostly the boys just like to play in the "little houses" aka sheds that they have there.  They could play for in those for 30 min. completely undisturbed.
17. High School
In the summer time the high school bands are always practicing in the parking lot for the upcoming football season.  Go and listen to them – dance, run and discuss all the different instruments.
18. Farmer's Market
This is a great spot to discuss different fruits and vegetables and smell new things.
You don't need to make a "Farmer's Market Scavenger Hunt" board before you go or feel like you have to buy stuff and cook it together at home.
Just go without any plan and see what happens.
19. Gymnastics Center
You don't have to do gymnastics or sign-up for a class to just go and watch.  The boys are always amazed to see how the kids can flip and swing and run.
20. Yours Workplace or Your SO's
Our boys love nothing better than to go have lunch with Chris at his office. Plus, he gets to chow them what he does all day. The boys also love meeting all the interesting new people while they are there.
http://www.parentswho.com/wp-content/uploads/2015/03/Kids-Outside-in-Tree.jpg
1000
2000
sarah wehkamp
http://www.parentswho.com/wp-content/uploads/2014/06/Parents-Who-Teardrops1.jpg
sarah wehkamp
2015-02-26 09:00:57
2015-02-26 12:02:19
Practical Guide: 20 Examples of Simple Kid Outings