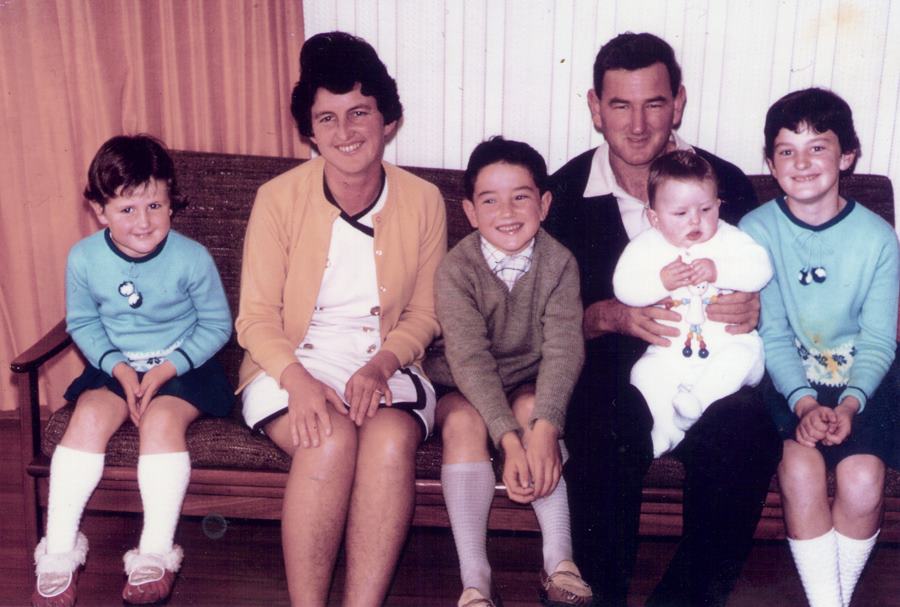 I was born in 1978.
My sisters were born in 1981 and 1984.
I am constantly wishing that I could have raised my kids in the age my mom raised me.
My mom didn't wonder whether we should eat gluten.  She didn't doubt whether public school or homeschool or Montessori was the right choice.
She didn't agonize over what theme our birthday parties should be, how long we should watch TV, or whether or not she was connecting enough with us.
She didn't question whether she was a good mom very often.
She just knew she was.
Then there's me.
I've never counted but I would guess that I doubt myself as a parent twenty-two times a day.
At least.
Should I let them play in the front yard unsupervised?  Is four years old too young to start discussing strangers?  Am I taking too many photos of them?  Am I taking enough photos of them?  Should I let them help in the kitchen more?  Is it okay that I'm not pushing them to read or know all their numbers and letters?  Do we do the whole tooth fairy thing or is that lying to your children?  Is lying to your children okay?  How much sugar is okay?  How much pizza is okay?
The list (sadly) goes on and on and on.
And it drains me.  And eats away at my self-assurance.
I constantly wonder whether I'm a good mom.  Or a great mom.  Or failing as a mom.
I've wondered over the years what the difference is between my mom's generation of mothering and mine.
I think I finally have the answer.
If my mom needed help or had questions, she had a few places she could turn:
– her mom
– neighbors and friends
– the pediatrician
– Spock's Baby and Childcare
– and her own intuition
While we as parents now have access to more resources for our questions, we actually now have more doubt, more uncertainty and feel less sure and supported than the previous generation.
How can we have so much more information about parenting and yet feel so much worse about how we're doing it?
We just recently moved into a new home so we have boxes everywhere.
I suggested to the boys that we make a dump truck or crane truck out of some of the boxes.
Before even thinking about it, I grabbed my iPad and Googled "how to build a dump truck out of boxes."  The boys were over my shoulder watching and began pointing out cool photos from the search results and we began to formalize how our construction vehicles would look.
Before I knew it (and without even going on Pinterest) we had some pretty epic ideas of what our construction vehicles would look like.
Painted yellow, wrapping paper rolls for arms, black butcher paper for the wheels to roll on, foam balls covered with electrical tape to look like wrecking balls…
The project had become something way bigger than I had ever intended.
And now I felt like if I didn't deliver and make the vehicles look like the photos, that I had somehow failed at being a mom.  Failed at giving my boys a cool experience.
Or was it failing?
Should I just stick to my own plan and not use any photos?
Why am I even having this internal dialogue?!
By now the boys were restless, had over-inflated ideas of what we had set out to do, and I was doubting myself and my abilities.
I put the iPad down and marched upstairs with my box cutter.
I started cutting up the boxes and Mr. B said "but Mama, you don't have the photos – how will you know what to do?"
And that's when it hit me.
I think I'm inadvertently teaching my son not to trust himself.
It's not an explicit lesson, but it's there.
Since having the boys, I have slowly learned to not trust my intuition.
It's not something I'm proud of.
I don't know when exactly I felt like I needed to check with Google or a magazine or a book or a forum or Twitter or a blog before I make a decision.  But there was a shift somewhere.  A shift that plagues me daily.
Even though I have more access to information than was ever available to my mom, I am constantly envious of how self-assured she felt raising us.
I long for that.
I want more than anything to just trust my intuition and know that I'm a good mom.
I'm far from close to achieving this, but I have a few strategies to help me on this journey.  I hope some of these can help you as well.
1. Avoid TV and commercials
There is a huge gap between what is reality and what is being sold to us as reality.  Yes, TV shows are selling you something.  Be it a way of life, a style of living room, your wardrobe…even reality TV isn't real.  I feel when I watch these shows like it's possible for my living room to look eclectic-urban farmhouse style chic and for my kids to never whine and my eyebrows to always be perfectly groomed, but then I look around and compare that to what I see and I feel terribly inadequate.
2. No Pinterest
Some can handle it, my brain cannot.  All I can think about is how I should be doing everything and I'm not.  Then I can't cut up a watermelon without wondering if I should have carved it into a boat or if it's fine to just spoon out the pieces with an ice cream scoop and dump them in a bowl (totally what I do btw).
3. Look through my baby book and baby photos
I turned out pretty okay.  What my mom did with me worked.  When I'm in doubt about birthday parties or Christmas's or activities I look at old photos and boost my confidence by knowing that what was good enough for me, is good enough for my boys.
4. Simplify
We have so many opportunities everyday to complicate our lives.  I try to say no to those complications as often as possible.  Less activities, less consumption, less stuff usually makes me feel more in touch with my own values and intuition.
I often wonder if it's just me that feels this way.
I hope if you have a similar struggle you'll let us know.  Whether here in the comments or by emailing us privately.  We read all the emails we receive and we love when others comment with their own ideas and resources that are working for them.
http://www.parentswho.com/wp-content/uploads/2015/03/managh-family-1970s.jpg
607
900
sarah wehkamp
http://www.parentswho.com/wp-content/uploads/2014/06/Parents-Who-Teardrops1.jpg
sarah wehkamp
2015-03-25 23:15:46
2015-03-25 23:21:14
I Doubt Myself 22 Times A Day