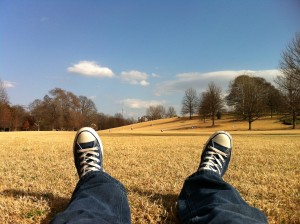 Are you ready to kick back, relax, and connect with your kids?
That's right.  KICK BACK.
Do you ever feel overwhelmed by it all?
Do you wonder how in the world you're supposed to connect with your kids when you're already spent from a day juggling the house, the finances, marriage, cooking, etc…
We've been there.
Sure, we love hanging out with our kids, but sometimes we are just too tired to do anything more than turn on the TV.
But maybe you don't want to turn on the TV.  Maybe you don't want to give your kid the iPad again.
Many parents feel like if the activity doesn't involve a lot of money or time or Pinterest that the kids won't get any value from it.
But quality family time isn't about a big production, it's about helping your kids feel loved and noticed.
The truth is:
Quality family time is possible even if you're feeling exhausted.
Most parents struggle to come up with ideas when they're with their kids.  They try to reinvent the wheel.  They feel like they have to figure things out by themselves.  Or they feel like they have to turn to technology for the answer.
To help you nurture the connection between you and your kids (even when you're feeling tired!) with simple and effective tips that really work…
…we created the free video "Four Simple Ways to Connect With Your Kids Even When You're Exhausted."
It is a compilation of carefully selected activities designed to help turn your family time into a more peaceful, sustainable experience.
Our first step in creating this video was living through hours of parenting fatigue ourselves.
We know exactly how it feels to clean up after dinner and think "can I just lay down for 30 minutes – I've got nothing left to give," only to flop on your bed and then see a little face appear and ask if you'll help him build a castle out of blocks.
We tried hundreds of ideas.
We asked other parents questions, tried different techniques.
We learned to shed the guilt of feeling tired and attempting to connect while lying down.
We started taking smaller, but really good steps in the area of parenting while exhausted.
You don't have to reinvent the wheel.
Or scour Pinterest.
You can hit the "responsible parenting easy button".
Some proven, simple ideas are all you need to arm yourself with when you're feeling tired.
We're still not perfect, and never will be (and we're not above using the TV to parent), but we've discovered balance and ease in the daily struggle of connecting with our kids.
We want to help others in this journey so if you're ready, click now to watch our newest resource "Four Simple Ways to Connect With Your Kids Even If You're Exhausted."
We hope it leads you to some super easy, super restful quality family time.
http://www.parentswho.com/wp-content/uploads/2014/06/Parents-Who-Teardrops1.jpg
0
0
sarah wehkamp
http://www.parentswho.com/wp-content/uploads/2014/06/Parents-Who-Teardrops1.jpg
sarah wehkamp
2015-05-28 12:21:57
2015-05-28 12:59:52
How to Connect With Your Kids Even When You're Exhausted