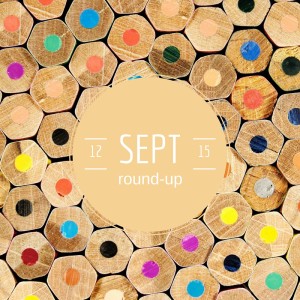 Sometimes it can be overwhelming looking through all there is available online.
I always appreciate it when my friends email or text me an article they know I will either find useful, inspiring, or just plain funny.
So today, let me be that friend for you.
Below is my collection of September favorites.  Hopefully you will find a new resource to use, a new blogger to love, or just find an article that you shake your head "yes" to.
If you use Instagram, you can definitely use this article on 7 features most people don't know exist in Instagram.
This article made me nod my head in agreement.  A lot.  18 Things that are hard to explain to third world friends.  Numbers 4 and 2?  Yes and yes.
I am a terrible artist.  Chris is awesome.  I think I want to give this book a try just so I can hang with him and the boys.
Do you know Rachel of Finding Joy?  I love her Dear Mom Letters.  This post especially resonated with me this month.  Very encouraging if you are a mom.
If you're already tired of packing lunches, check out "How to set-up pack your own lunch stations for kids".
Tired of explaining so many things to your kids?  Let Mental Floss help.  They just launched a new series WHY? for parents and kids.  Check out this one answering "Why do I have to go to sleep?"
And finally, find some new audio that both you and the kiddos can enjoy.  "14 podcasts your kids will like that won't drive you crazy".
Let us know if there is anything specific you are looking for.  We have a plethora of good resources we are happy to share!
http://www.parentswho.com/wp-content/uploads/2015/09/BEST.jpg
800
800
sarah wehkamp
http://www.parentswho.com/wp-content/uploads/2014/06/Parents-Who-Teardrops1.jpg
sarah wehkamp
2015-09-25 16:12:16
2015-09-25 16:12:16
September Resource Round-Up