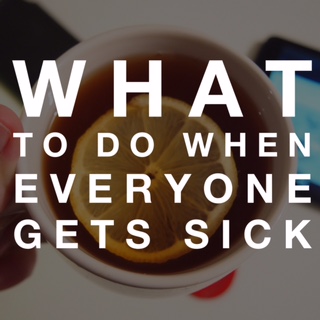 It happens to us every year without fail.  Around mid-January, everyone in our family gets sick.
Throughout our now five years of this happening, we've picked up a trick or two.
In this episode we discuss how you can prepare for sickness ahead of time, what to do when you're in the midst of it, and thoughts on how to proceed afterwards.
Listen to hear us discuss how we've kept our sanity, what we put on the beds to keep mess at a minimum and how sick times have actually made our family stronger.  (In hindsight of course!)
Podcast: Play in new window | Download
Subscribe: iTunes | Android | Stitcher | RSS
In this episode:
Two things you can do before everyone gets sick that will help when you're in the midst of it
How we convince people to watch our sicks kids while we mend ourselves
Silver linings that can be found once everyone is feeling better
Items of interest:
No links this week.  I could have put a link to some Kleenex but I think you know where to find those ;)
http://www.parentswho.com/wp-content/uploads/2016/01/when-everyone-gets-sick.jpg
320
320
sarah wehkamp
http://www.parentswho.com/wp-content/uploads/2014/06/Parents-Who-Teardrops1.jpg
sarah wehkamp
2016-01-30 10:16:56
2016-01-30 10:31:42
PWP 7 I What to do When Everyone Gets Sick