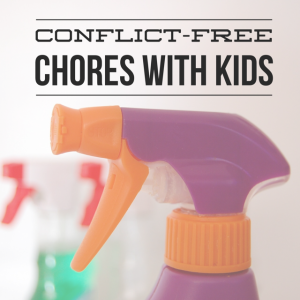 Some day I feel like our house grows socks.
Like, during the night, seeds get planted, and then in the morning, socks have sprouted.
Shoes and coats as well.
Do you struggle at all to get your kids to pick-up after themselves and to do their daily chores?
Do you struggle to even know what chores they should be doing?
Join us today as we discuss conflict-free chores with kids.
Podcast: Play in new window | Download
Subscribe: iTunes | Android | Stitcher | RSS
In this episode:
The real reason it's important to get your kids involved in chores (spoiler alert: it's not so you can have the laundry put away correctly!)
How chores in the Western world differ from those in other parts of the globe
Conflict-free ways to get kids doing chores on a regular basis
Where we went wrong (in regard to family chores anyways) (other ways we went wrong will be tackled as we continue to publish episodes)
Ideas for appropriate chores for 2-4 year olds
Chore ideas for 5-10 year olds
Chris's childhood chores
Sarah's greatest motivator as a child to get her chores done
Items of interest:
http://www.parentswho.com/wp-content/uploads/2016/02/IMG_6577.png
640
640
sarah wehkamp
http://www.parentswho.com/wp-content/uploads/2014/06/Parents-Who-Teardrops1.jpg
sarah wehkamp
2016-02-25 06:30:44
2016-02-23 22:01:31
PWP 11 I Conflict-free Chores With Kids