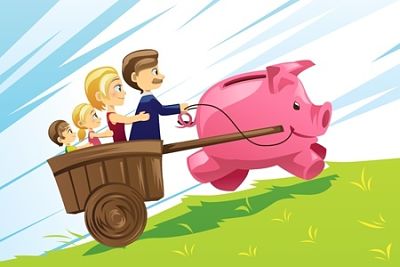 It's a strange world we live in when you can attend school every day for nearly a quarter of your total life span and never learn about how to manage money effectively.
That is the situation, and thus it's up to parents to take the lead on educating their kids on money matters.
This can create a really uncomfortable situation, however. There are still many taboos surrounding money which can be difficult to navigate. Not to mention that if you haven't answered every financial question you have for yourself (and who has?) you might not feel confident in trying to answer questions about money for your kids.
April is financial literacy month and thus today's episode is about closing out the month of April by having a talk with your kids about money. No matter their age, they can benefit from starting this discussion with you today!
But we aren't going to let you go it alone! In this episode we detail the 3 areas of money literacy to focus on when talking money with your kids. We also give you the details of the allowance plan we have rolled out for our 5 year old boys this week.
All of this to get your mind percolating about how to approach your own kids with this touchy topic. After all, the sooner you begin the conversation, the greater your kids understanding and success with financial matters later in life!
Text PARENTS to 44222 right now to get more helpful strategies like the ones you'll hear about in this episode delivered to your inbox each week!
From this episode:
Items of interest:
Text "PARENTS" to 44222 to receive our FREE guide to enhancing your child's imagination, as well as 2 free children's audio stories!
Podcast: Play in new window | Download
http://www.parentswho.com/wp-content/uploads/2016/04/11930901_s_opt.jpg
267
400
Christopher Wehkamp
http://www.parentswho.com/wp-content/uploads/2014/06/Parents-Who-Teardrops1.jpg
Christopher Wehkamp
2016-04-28 14:40:37
2016-04-28 14:41:51
PWP 20 | Teaching Your Kids About Money